We provide Conveyor Belts which are designed for efficiency, durability and performance at a reason- able cost.
Conveyor Belts are manufactured using polyester – polyamide (nylon) fabric plies and rubber covers conforming to DIN 221 02. These belts are ideal for bulk handling a wide range of heavy and abrasive materials successfully catering to various industries; quarry, stone crushing & screening, cement & process, mining, ports, ready-mixed concrete, sand washing, asphalt, organic fertilizer, chemical fertilizer and many more. We can offer customized specifications to applica- tion needs as well.
Bucket elevators have proven themselves for vertical transport of many and diverse bulk materials for decades. Belt bucket elevators were consistently developed in the past and enable the highest possible conveying capacities with maximum centre distances today. Chain bucket elevators are the preferred conveying systems for the transport of hot bulk materials and coarse-grained materials. With its central chain bucket elevators.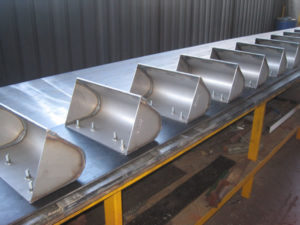 Screw Conveyors
Shafted screw conveyors are used in thousands of industrial applications every day for efficiently conveying a variety of bulk materials. A screw conveyor's main function is to transfer bulk materials from one process to another. Screw conveyors are very cost-effective and require minimal maintenance to operate.
Advantages of Using Screw Conveyors
Ideal for handling dry to semi-fluid materials

– free-flowing to sluggish

Cost-effective when compared to other conveying devices such as belt, pneumatic or aero-mechanical conveyors
Efficiently distributes bulk materials to various locations using multiple inlet and discharge points
Totally enclosed for corrosive or hazardous requirements